Technology Trends Shaping The Future
Technology adoption, digital transformation and innovation is happening at a faster rate than ever before – and this has been further accelerated by Covid. 1,2,3 In this article we look at the technology trends that are causing this acceleration.
While on the face of it this may seem a good thing, the speed in which transformation is happening (and the pressures surrounding it), is creating environments in which failure is more prevalent. 4
In this article, we'll explore trends that are happening, discuss how to adopt technology in the right way and showcase what's available to businesses in Birmingham and the West Midlands looking to transform their operations, products and services.
Technology Trend 1: The Need for Speed
As you can see from the research conducted by McKinsey5, the pandemic has caused a greater need for speed when it comes to adopting new technology.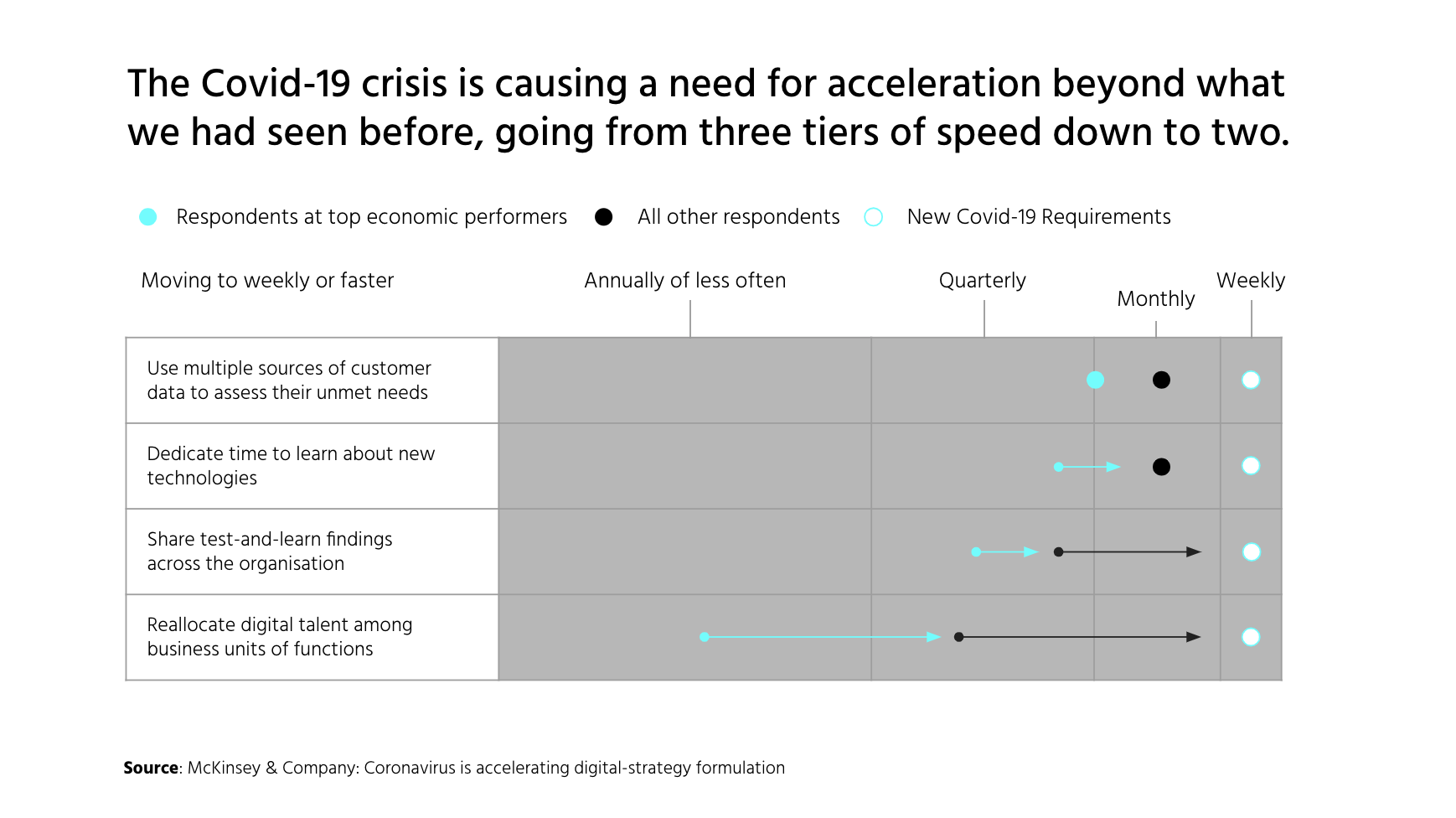 This is by far the most important trend, as all the other technology trends were happening way before the pandemic, it's just that they've become more important and are now more prevalent/understood.
"People often mistake technology for a static picture. It's less like a picture and more like a movie. It's the velocity of technology innovation that matters. It's the acceleration."
It used to be the case that 'tech leaders' would lead the way so that the rest of us could play catch up when we were ready. The problem is, right now we all have an immediate need to innovate and transform and that means we are all 'crossing the chasm' together. The good news is that there's a lot of people that have gone before us, which means there's a lot of insight that can still be obtained.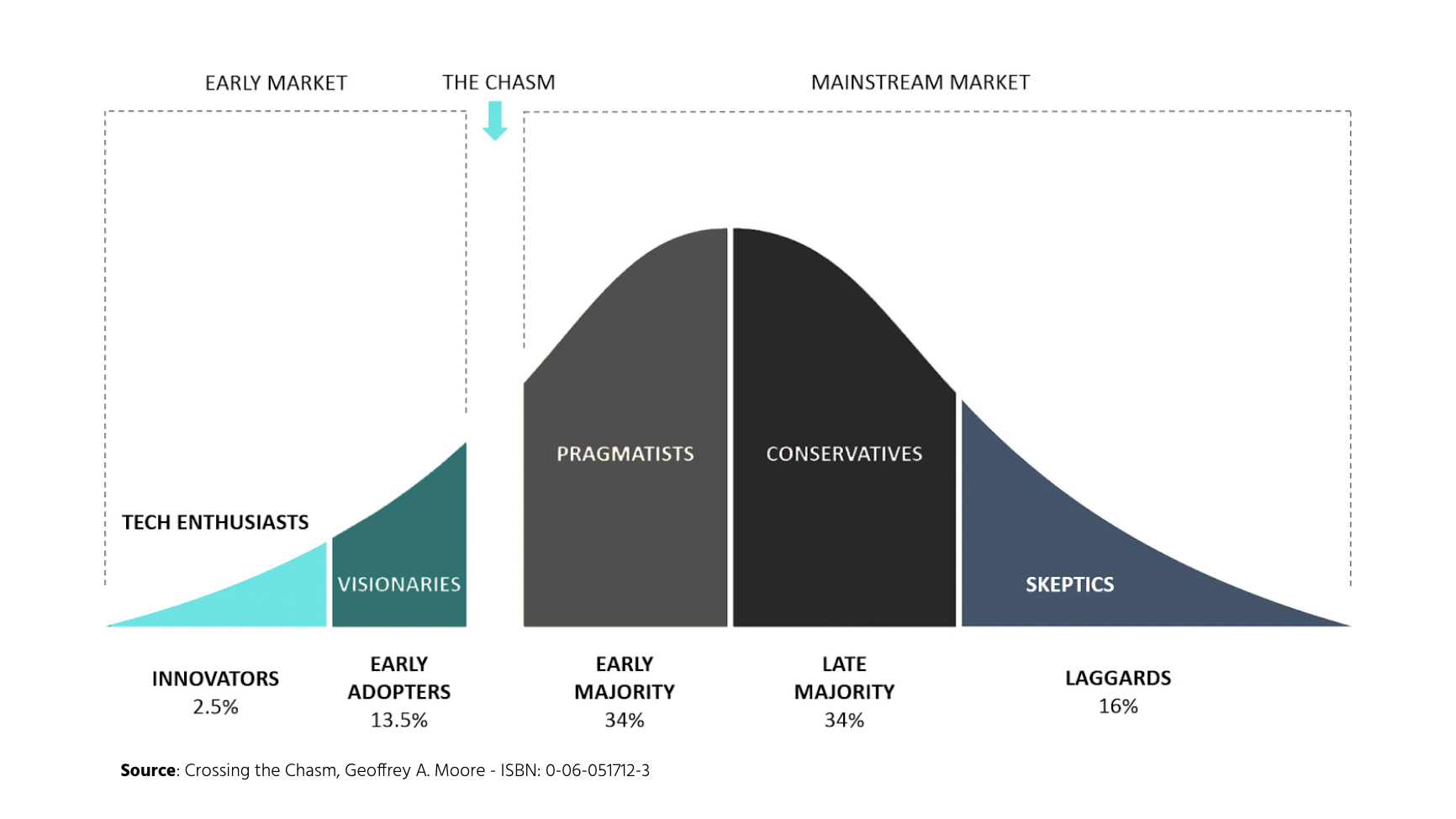 As illustrated above, you can learn a lot from the innovators and early adopters on how they adopted new tech and most importantly where they failed and how they succeeded.
Advice
Hit the pause button and resist the temptation to go too fast. Going fast can be good as it can lead to faster innovation and enable you to go-to-market quicker. However, going too fast can cause you to miss vital insights that can result in a poor customer experience, expensive tech projects or worst of all, digital solutions that were never needed. These expensive mistakes can cost you time, money and in extreme cases, your business.
Technology Trend 2: Data & Analytics
Data is being created at breakneck speed…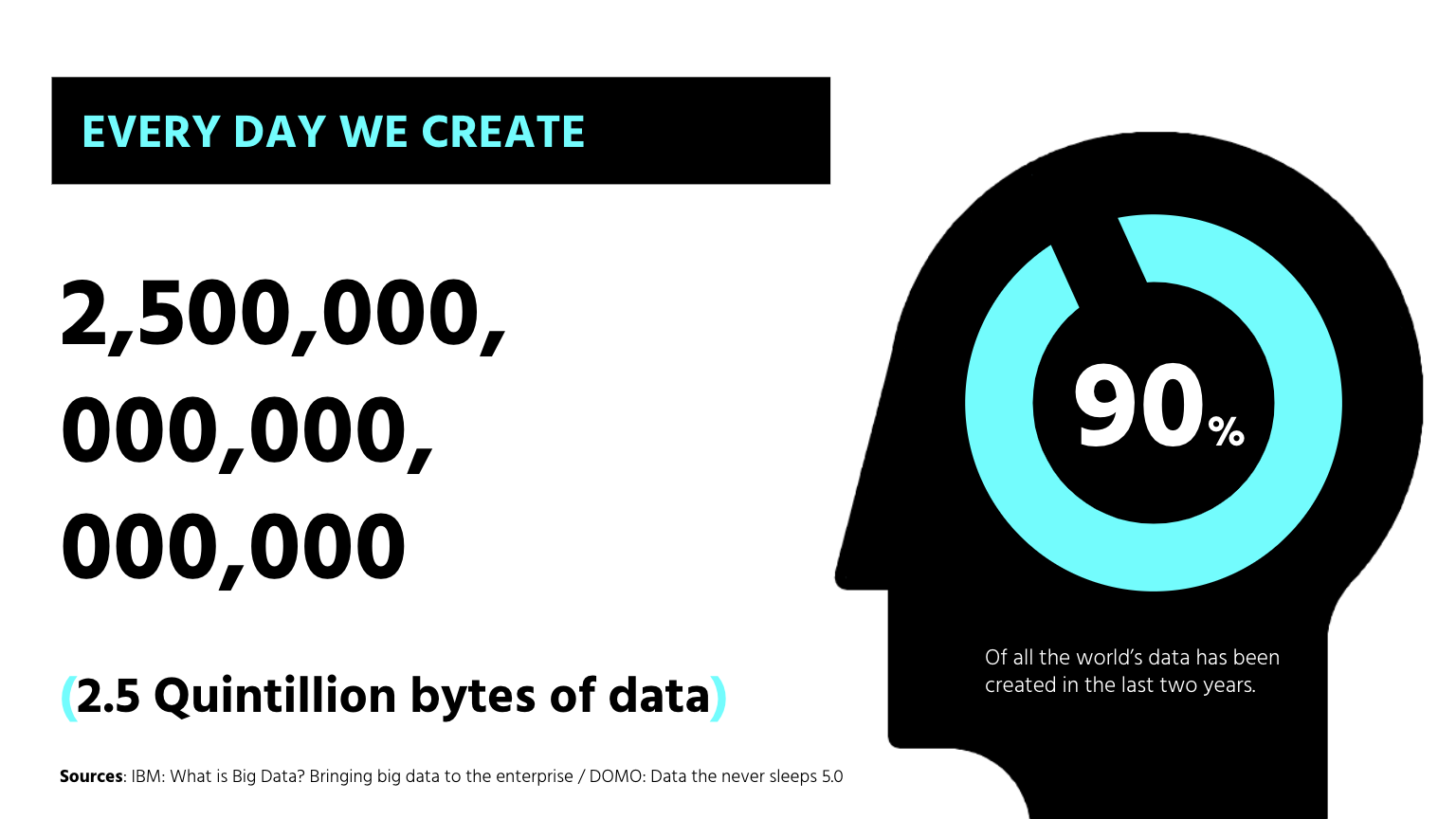 Although data is being collected like never before6,7, businesses are still finding it difficult to make use of it. Also, while Enterprise organisations are collecting data from multiple sources, SMEs are struggling to acquire data from their customers and prospects.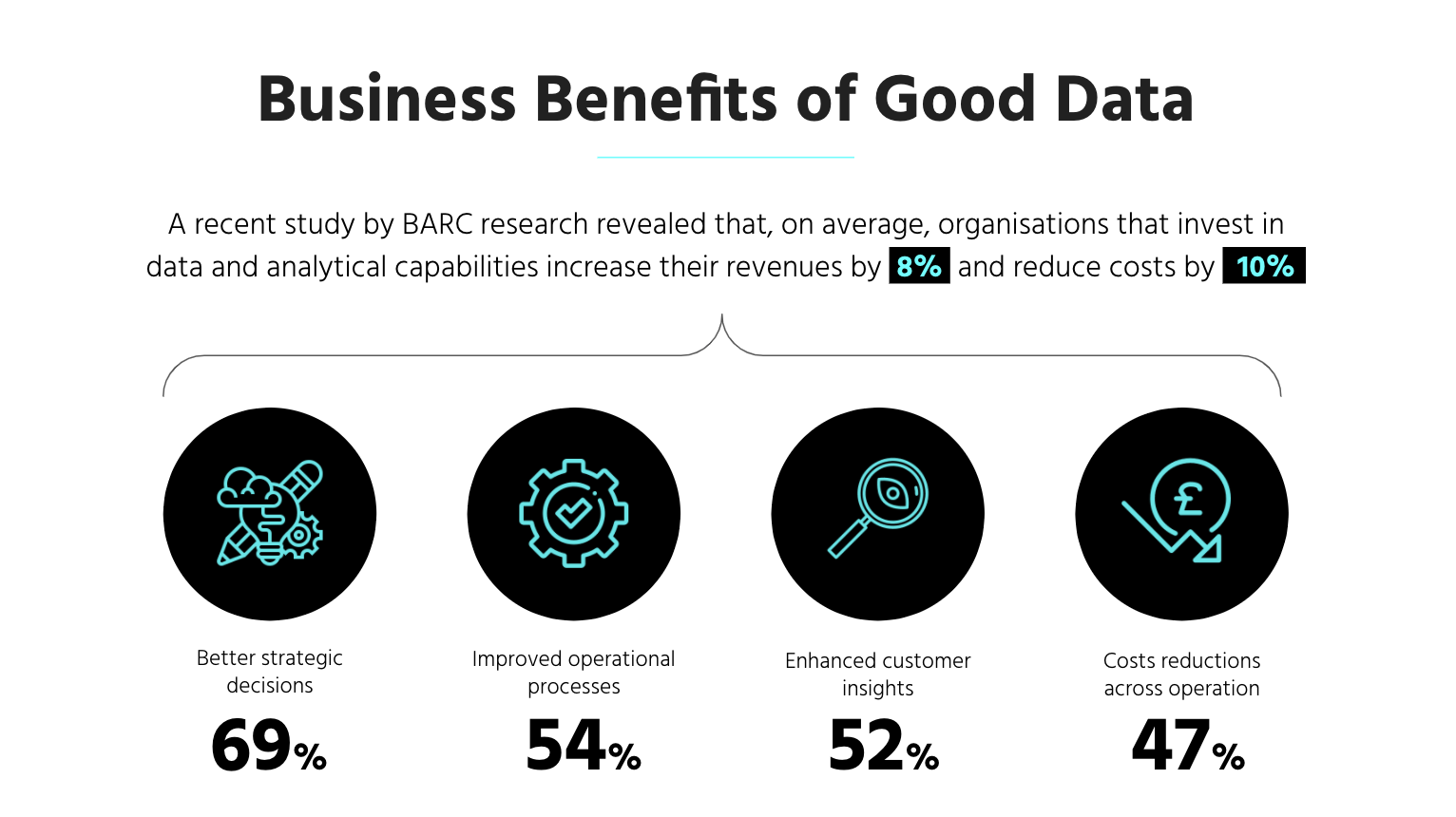 It's clear to see that data is a powerful business driver but the challenge of sourcing it is still an issue.
"The world is one big data problem."
Advice
Big Data might be the buzzword of the day but actionable data/insight should be the flavour of the month.
1) Spend time acquiring good data sources and understanding your existing customers better
2) Democratize data across your organisation
Internal: make it transparent, easily accessible and encourage people to use it to innovate
External: Data transparency with customers will result in more trust. In turn, the improved trust will increase the Life Time Value (LTV) of your customers – creating engaged consumers who are likely to stay with you longer and spend more.
3) Decide what you want to do with your data first
How can it make you more efficient?
How can it lead to an increase in revenue/reduction in cost?
Technology Trend 3: Automation
Half of all the activities people are paid to do globally could theoretically be automated8 yet very few organisations spend time optimising their operations. This results in employees spending the majority of their time doing menial, manual tasks. However, things are about to change: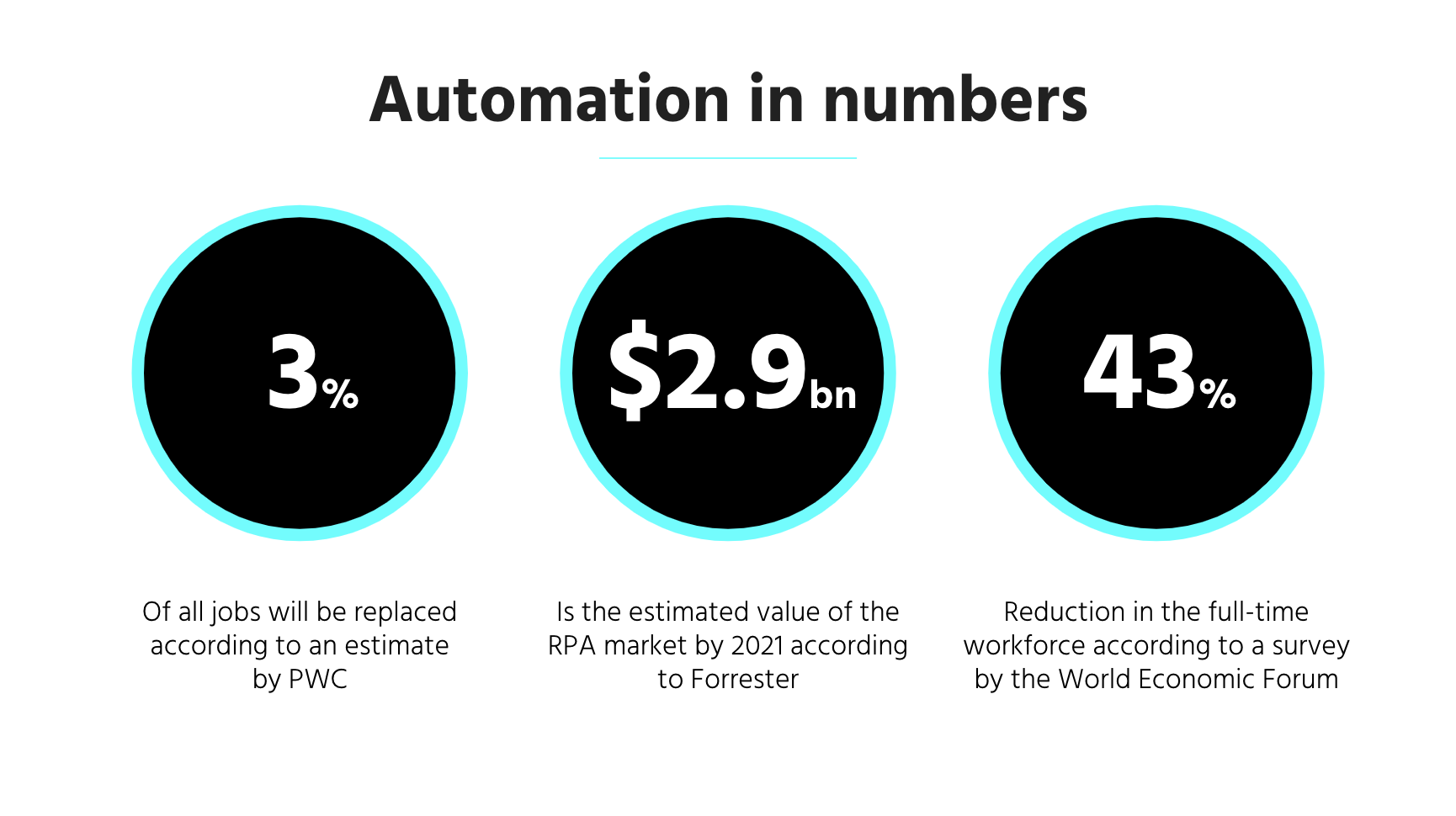 Sources: PWC Impact of Automation9 Forrester RPA Market10 World Economic Forum Future of Jobs Report11
Interesting Fact: The jobs most resilient to automation are also some of the lowest-paid e.g. teachers, creatives, caregivers – these also happen to be the jobs that we will become more reliant on with more time to consume arts/media/entertainment, an ageing society that will need caring for and new skill development as technology gets more complex. Something needs to change!
"You are either one that creates the automation, or you're getting automated."
Advice
You should be spending more time optimising your business and operations through a level of automation.
This will result in significant time saving that can be used to do more strategic, creative and valuable work – while improving employee well being and satisfaction
Start small – pick tasks that are easy to automate:
Triggered emails
Task automation
Invest in tools/systems that help you do that:
A CRM – with automation capabilities
Use Zapier or Tray.io to automate tasks between systems
Make sure you integrate your tools/systems so information can be passed back and forth and automation can take place.
Don't have the in-house capability?
Find a graduate – there are lots of them and they are all looking for work/experience.
Find an experienced person – again, lots of them looking for work
Outsource to a specialist company
Get more help
We hope you found this useful and it helps your business adopt technology in the right way. Looking for more help? Check out our support section.
References