We are currently living in a world with increasing unprecedented problems, coupled with the uncertainty of the future. The novel COVID-19 presents itself as a raging storm in our calm lives; completely un-warned and uncalled for. As the pandemic emerged, the COVID-19 outbreak not only led to a crippled socio-economic situation but also caused exponential psychological distress across the world. Be it public, private, or social sectors, at local or global levels, organisations of all sizes have been facing the brunt of the pandemic. In the face of the existing scenario, the outbreak continues to pose complex and obviously large problems concerning physical health, safety, emotional distress, economic downturn, unemployability, and recession, to seemingly smaller but significant challenges such as product scarcity, unsold stocks, disruption of supply chains, changing consumer behaviour and attitudes, loss of customers trust, and disrupted lifestyle amongst the rest.

Human-Centered Design Thinking The global pandemic will inevitably continue to have a material impact on society. Moreover, the uncertainty about the future, the pressing concern about the health and safety of our loved ones, and the need to adapt to the new normal are giving rise to increasing levels of anxiety, grief, and fear. This has caused a remarkable change in consumer preferences and behaviours. customers worldwide are looking at brands offering products and services through a different lens. Subsequently, there is a need for a complete renewal of existing business models and supporting operating models. 
We can thus establish COVID-19 as a huge messy problem that adds a significant layer of complexity with several problems branching out, as demonstrated above. Therefore, there is a need to explore ways to help the world solve the complexities of this problem. This is where Human Centred Design Thinking emerges as the future in a technology-driven world.
"Design thinking is a human-centered approach to innovation that draws from the designer's toolkit to integrate the needs of people, the possibilities of technology, and the requirements for business success. It brings together what is desirable from a human point of view with what is technologically feasible and economically viable." 

– Tim Brown, CEO of IDEO
With the emphasis on being human-centric, solution-driven, option focused, and iterative, design thinking offers insights for the necessary pivot that organisations as diverse as global corporations, private companies, charitable foundations, social innovation start-ups, national governments, and schools will have to undergo to survive, and potentially emerge stronger. To put things into perspective, the global pandemic has put enormous stress across the sectors and these challenges bring together the need to redefine product design, experience design, service design, and that's where design thinking acts as a breakthrough. Through its iterative process of empathising, problem defining, ideating, prototyping, and testing, human-centered design can enhance the customer's journey at every touchpoint and stimulate the development of products and services that strongly resonates with customers.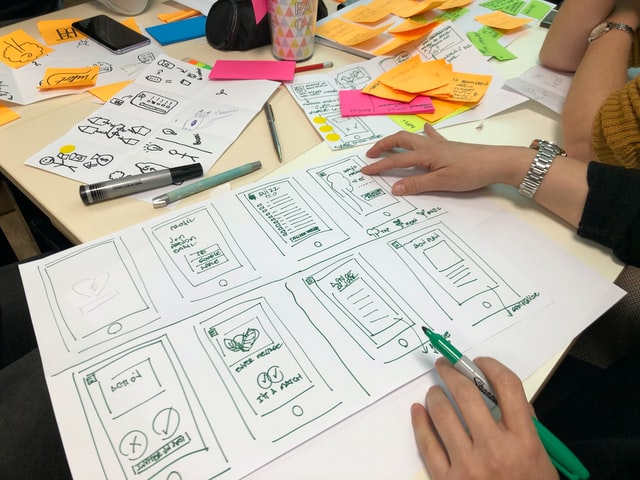 The Need for Design Thinking  Customers are now responding to the crisis in a variety of ways, with safety being the topmost priority. The outbreak has pushed customers out of their normal routines. Customers are adopting new habits and behaviours that many anticipate will continue in the long term. Customers are now embracing technology as social distancing norms and the need to stay at home has been forced to adapt to the new normal. How people spend their leisure time is changing, entertainment, learning have seen a rise, and the determinants of brand decisions have been transforming. Experts identify that businesses must prepare for the new normal and view transformation from the lens of humans at center, innovation at scale, and technology at speed, all of which are parallel to the Design Thinking Methodology. 
With a deep emphasis on identifying genuine needs, a deep empathy, and understanding of the human factor, the would-be innovators must be armed with a design toolkit better suited to solve the complexities and messiness associated with COVID-19. Standing still is no more an option. Thus, it's time we embrace technology, break out the established patterns of thinking, and revamp our outmoded toolkit traditionally based on predictability and control, which are optimised for solving tame problems. It can be argued that several organisations have already adopted the practice of design thinking. However, in times of a crisis, there is a pressing need for organisations at scale to adopt a human-centered design thinking approach for problem-solving. 
Stages of Design Thinking Enlisted below are the stages of design thinking, as proposed by the Hasso-Plattner Institute of Design at Stanford. The idea is to combine our technological capabilities with the empathetic and creative problem-solving methodology that the Human-Centric Design Thinking offers:
1) Empathise: Embrace technology to facilitate cognitive empathy at scale. Make intelligent use of data, analytics, and technology to garner a deeper understanding of the thoughts and feelings of your customers. Redefine your focus and vision, have a customer-centric culture to align your ability to build a customer-focused technological architecture that allows your organisation to better understand your customer. Deploy social networks and online communities to have a meaningful conversation with your customers.
2) Define: Explore different angles to understand the root of the problem. Understand the real needs of the customers and be adaptive to changing customer behaviour and preferences. Instead of clouding your thoughts with the obvious problem, take a few steps back and look at the broader area or industry. This approach can help solve a larger problem, especially at the times of a crisis. Conduct active research, generate insights and define the otherwise ill-defined problem. Have a data-driven mindset to redefine customer needs. Most importantly, sharpen the problem from the customer perspective.
3) Ideate: Brainstorm ideas to widen the possibilities of solutions. Push past obvious ideas to land on breakthrough ideas. Now that the COVID-19 has accelerated digitisation across sectors ranging from retail, entertainment, learning, etc., to stay afloat, and get back to business, identify the possibilities of technology to offer solutions.
4) Prototype: Build a prototype to test the feasibility and concept of the idea. Prototyping enables investigating and either accepting, improving, re-examining, or rejecting an idea basis user's experience. Thereby, lowering the risks and costs of launching an otherwise poor solution. Deploy rapid prototyping technologies to flesh out the best possible creative solution for your customers.

5) Test: Test the innovative solution finalised during the prototype stage. Engage with customers on social media and within your brand community and bring diverse voices into the process. Gather and incorporate feedback to better the solution. Please note, it is crucial to stay empathetic towards customers, especially during times of crisis. Find more personalised ways to garner feedback. Since this is an iterative process, incorporate user-driven criteria and get back to any stage basis the call of the hour.
In pressing times of a global crisis, empathy is key. Understanding your customers and adapting to their dynamically changing needs becomes more important than ever. The pandemic has forced us to rethink ways we run our business, our society, and our lives. So, it's time we up our game, modernise our toolkit to solve the complexities, and reboot our post-COVID world with design thinking backed with our technological capabilities. It's time we emerge stronger, together.
This article was written by Anushka Malhotra, Ambassador for Birmingham Tech Week
References
https://www.accenture.com/us-en/insights/consumer-goods-services/coronavirus-consumer-behavior-research 
https://hbr.org/2018/09/why-design-thinking-works 
https://www.mckinsey.com/business-functions/marketing-and-sales/our-insights/adapting-customer-experience-in-the-time-of-coronavirus 
https://changelabs.stanford.edu/system-transformation-methodologies-2/design-thinking 
https://www.sciencedirect.com/science/article/pii/S0007681310001497 
https://www.frontiersin.org/research-topics/13913/coronavirus-disease-covid-19-socio-economic-systems-in-the-post-pandemic-world-design-thinking-strat 
https://www.ncbi.nlm.nih.gov/pmc/articles/PMC7263213/ 
https://www.pwc.com/us/en/industries/consumer-markets/library/covid-19-consumer-behavior-survey.html 
Liedtka, J., Azer, D., and Salzman, R., n.d. Design Thinking For The Greater Good. Columbia Business School.