Today (March 8th 2020) is the last chance to apply for School of Code's NEW part-time bootcamp.
Last chance to apply for School of Code's new six month, part-time bootcamp that focuses on front end technologies to allow individuals to upskill in their spare time
With previous experience of training people from a variety of cultural, professional and socio-economic backgrounds and turning them into work-ready developers through the full-time intensive  16-week bootcamp, this new course complements the strategic aim to increase diversity in the Tech industry.

90% job placement rate within three months of graduation for first 2 cohorts
70+% job placement rate  during COVID for 3rd cohort

In 2020, the UK advertised 181,000 software developer jobs, 56,000 more than the previous year. This new talent needed to be well-trained, remote-ready, and from diverse backgrounds. This number is projected to grow across 2021.
COVID-19 has had an unprecedented impact on the UK's workforce by necessitating a widespread transition to remote working. Alongside this, 2020 highlighted the need for diversity and representation across the UK's Tech sector; only 5% of technology leaders identify as female, and only 5% of the UK's Tech talent identify as coming from a BAME background.
These numbers cast a long shadow over the industry and lag behind many other European nation's efforts. The traditional hiring structure is partially to blame for this issue. Leaders historically gravitate towards Computer Science graduates from top Universities, who possess limited diversity in thought or background. Alternatively, businesses employ from boot camps who charge an average fee of £8,000 – £12,000 thus closing the door to many of our best and brightest.
School of Code is on a mission to get more and different types of people into Tech. They are closing the digital skills gap by turning diverse cohorts of people into work-ready full stack developers suited to remote, Agile teams. The bonus: It's free to attend. Funding from the West Midlands Combined Authority, corporate sponsors, and employer partners levels the playing field and eliminates barriers to entry. Employer Partners include The Economist, Santander, Purplebricks, Bravissimo and other companies that all share School of Code's passion for diversifying the Tech sector.
Andrew Barrclough, CTO at VoxPopMe said:
"School of Code gives us access to incredible people whose engineering education wasn't typical, which pays enormous dividends"
And Jujhar Singh, Global DevSecOpsLead at The Economist, said:
"We've hired 7 SoC Bootcampers over various cohorts and they've come to us fully trained as human beings with a deep desire to learn – all we've had to do is teach a smidgen of tech and away they go."
The new bootcamp starting on Saturday 27 March will offer 40 people across the West Midlands the opportunity to gain coding skills on a flexible basis whilst accommodating their existing employment, business or caring commitments. Independent and peer learning throughout the week will accompany set class times on Wednesday evenings and every other Saturday. Like previous bootcamps, learners will take part in two real-world projects that will allow them to showcase their new technical skill set.   By offering this versatility in the learning experience, School of Code hopes to widen participation in the tech sector across all socio-economic groups.
Arshi Sheikh, current Bootcamper, said:
"It was inspiring to see people from all backgrounds come together to support each other and learn to code. There was a low entry barrier and the only real requirement was a desire to intensely learn and be challenged. It's accessible to everyone."
Chris Meah, CEO of School of Code, said:
"Technology will be the engine of recovery for the country, but we need to make sure everyone is on board to benefit. At the School of Code we are open to everyone to help more and different types of people take advantage of the opportunities technology gives, and to future proof their skills and career. Bootcamps offer a short, intensive and transformational learning sprint to a new career. We change people's lives by taking them through a transformational, team-based journey giving participants the right skills to be immediately useful to employers on day one. But crucially our bootcampers also learn how to learn"
This proven model has seen 85% of previous bootcamp cohorts successfully placed into digital roles throughout the UK. Whether they started the course as a paleontologist or a classical guitarist with  no tech experience, they have all learned the technical, problem solving, and creative skills required to join high-performing tech teams and make an impact immediately. 
Former bootcamper Clare Streets, Non-Exec Director at Birmingham Tech said of her Bootcamp experience:
"I'd resigned myself to the idea that there weren't any viable opportunities for me to pursue a rewarding and progressive career with young children in tow and then I found the School of Code. On completion of the course, my career went from 0 to 100mph in just under 6 months and I couldn't be more excited about growing further within the industry."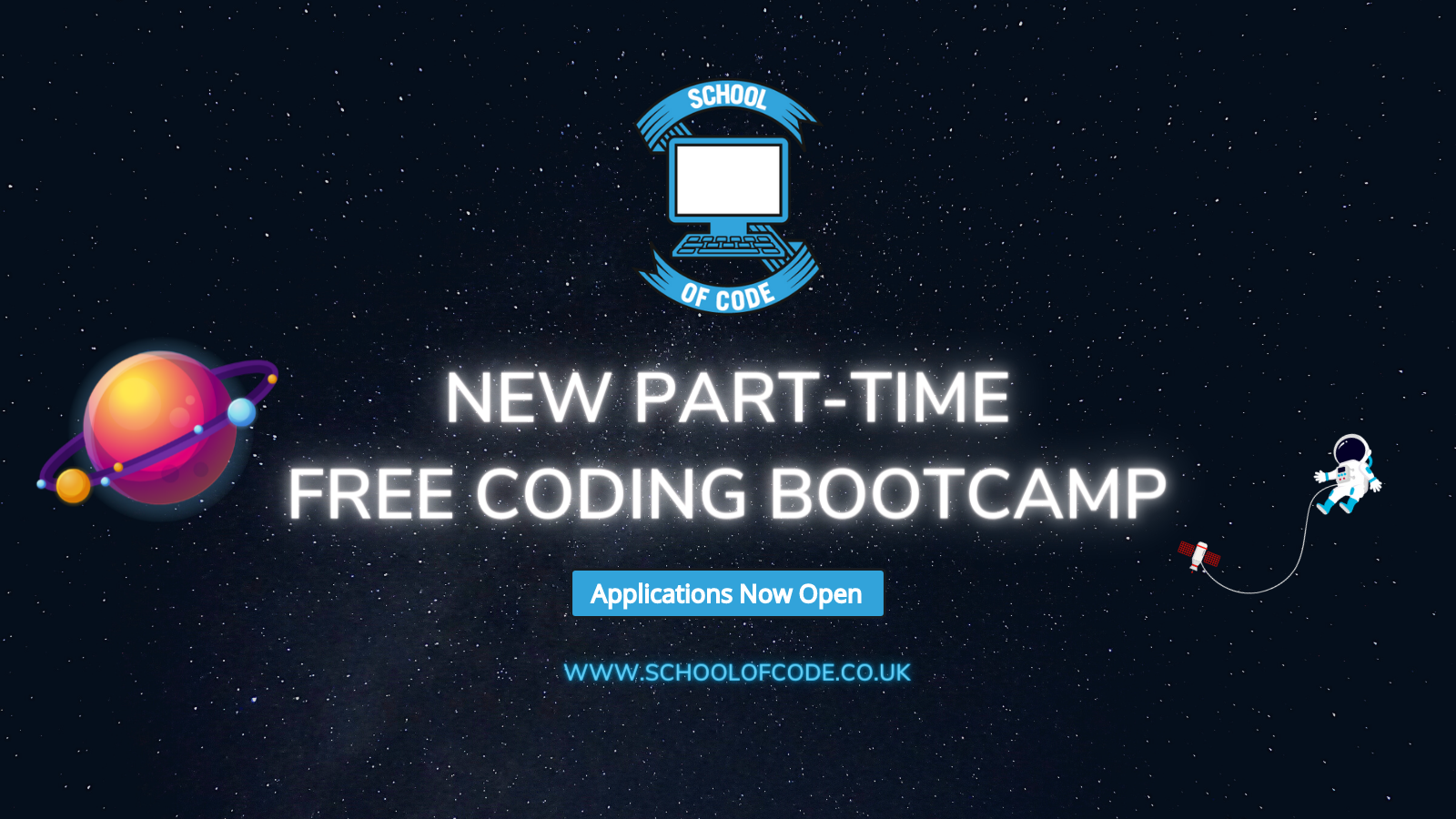 -ENDS- 
About the School of Code:
At School of Code we are on a mission to address the UK's digital skills gap and the lack of diversity in tech. We transform diverse cohorts of people from a wide range of backgrounds into work-ready, high-performing tech teams through our free, industry-specific coding bootcamps. Birmingham-based School of Code was founded by Dr Chris Meah in 2015. To date, 144 people have attended a Bootcamp, including 30 people on Bootcamp 5, which began January 2021.